WordPress post revision is one of the major problem for bloggers. Especially if you are using VPS web hosting then old post revision is a major concern because it occupies more disk space. So, What is Post revision in WordPress blog? Whenever you write a new article, it will be saved periodically as post revisions. These posts revisions are helpful to revert back the original content in case of power failure or server errors.
Delete Old Post Revision With Better Delete Revision plugin
Here is a FREE plugin know as "Better Delete Revision". Just download install "Better Delete Revision".
Logon to your WordPress account. Goto Plugins and Search for "Better Delete Revision"
Click Install and Activate it.
After installing plugin, go to Settings –> Better Delete Revision.
Now, you can see the "Redundant post revisions" in options panel.
Two buttons "Check Revision Posts" and "Optimize Your Database" are available.
1. How To Delete Old Post Revisions
Click on the "Check Revision Posts" button and it will display all available post revisions.
You can Delete or Keep them using the buttons at the end of page.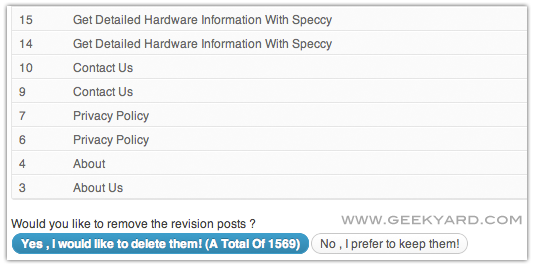 2. How to Optimize your Database Tables
Now, click on "Optimize your Database" button and it displays all tables in your database.
If the status is "OK", then there are no problems with the database tables.
If any thing is displayed in red, then click on "Optimize Database" button.

That's it !!! Old Post revisions in your WordPress blog are successfully deleted. 🙂