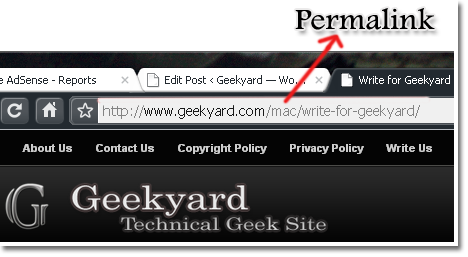 When you write a post or a page, the title you use
becomes the URL
. This same
URL get's crawled
by
Search engines.
Having proper keywords in your URL is vital for
SEO
but why WordPress uses the
?P=<postid>
for the default URL, I have no clue.
If you do not change the default setting in your WordPress backend, your URL's will look like this:
http://www.geekyard.com/?p=123
The p=x is basically the Number of posts you have done and is the next post number. So, the only good for SEO that your title is doing, are the keywords in your domain name! This means you are leaving A Lot on the table as your title is very important for SEO.
So how to change the way the Permalinks are displayed?
Once logged into your WordPress backend, Go to Settings–>Permalinks. You will see 5 options to choose from.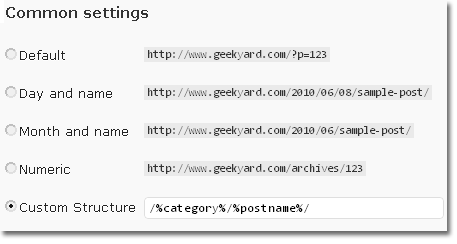 Simply select which one  you would like to use and be sure to click Save Changes. Picking the custom option will likely be your best choice.
If you select Custom Structure, I would use the string  
/%category%/%postname%
which will then include your
domain name
followed by the category (if one is picked) and the title you use for your post
/ page
.
Now if you already have posts or pages live, you will have to use caution if you change your permalinks setting as your URL's will change!