Add stylish floating social media share icons on your WordPress blog with FREE WordPress Plugin. You can make the icons to appear automatically or you can use social media widgets, shortcode or php code to display icons where ever you like to show.
The icons will fly from top left to bottom right and it will stay there even if user scrolls the page, thus it floats. 😉
Cool Features of "Floating Social Media Icon":
★ One and Only Plugin With 20+ Icon Designs with Pinterest Support
★ Drag and Drop Reorder Icons
★ Easy to configure user interface
★ Social Media Icon Size Selection Support
★ Automatic Integration
★ Support Essential Social Medias Only
★ Pinterest Support
★ Detailed Help Documentation
★ Featured Plugin On Many Plugin Review Sites
How to Install "Floating Social Media Icon"?
Logon to your WordPress blog.
Goto WordPress dashboard –> Plugins –> Add New.
Search for "Floating Social Media Icon"
Click Install & Activate the Plugin.
That's it.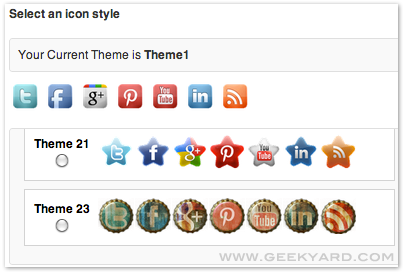 After Installation of Social Media Icons click on the "Floating Social Media Settings"
There are more than 20+ stylish social icon themes. You can select one theme which suits the best for your WordPress Blog 🙂