If you have WordPress blog you will receive a Trackback whenever someone links to your blog post . Trackbacks is one of the link building technique which helps to boost SEO. If you are using Dofollow comment system like Geekyard you should be prepared to fight against spam comments. If you are not aware of Dofollow and nofollow read this article,
What is DoFollow? What is NoFollow?
Usually enabling Trackbacks leads to spam comments. By default comments and trackbacks are mixed up which makes some confusion in comment discussion area. Its better to separate trackbacks and comments so your blog looks clean and stylish.
Disable Trackbacks Completely on WordPress
By doing this you can control Spam trackbacks up to some extend.
1. Go to Dashboard –> Settings –> Discussion
2. Uncheck "Allow link notifications from other blogs (pingbacks and trackbacks.)"

3. Click Save Change at bottom of the page.
Easy Way To Delete All  Trackbacks
1. Go to Dashboard –> Comments
2. Now search for "[…]" and it will show all the trackbacks on your blog. (See the below screenshot)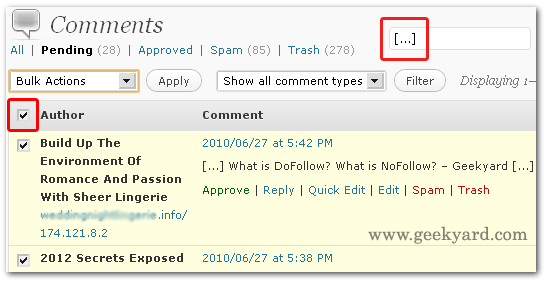 3. Select All Trackbacks and Choose Send to Trash in Bulk Action.
4. Click Apply.
I hope this article will be useful for you.