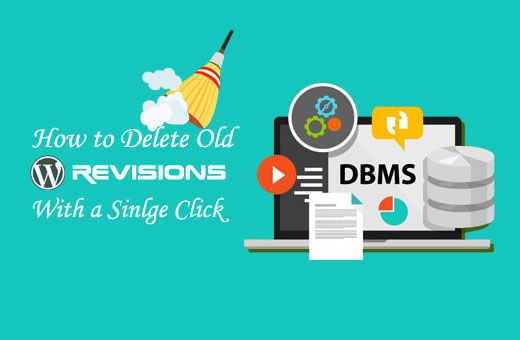 Earlier we saw how to easily delete old WordPress post revisions using "Better Delete Revision" plugin. But this plugin hasn't been updated in over 3 years. It may no longer be maintained or supported and may have compatibility issues when used with more recent versions of WordPress. So, I found another WordPress plugin which helps to get rid off all post revisions and optimizes the database.
In this post, I will show you how to delete your old WordPress revisions and clean up/optimize your database. This ensures that your site keeps running at optimal performance. Unoptimized database will surely affect page load time and in turn affects Google rankings.
What is WordPress Post Revision?
Before we get into the topic let's understand what is post revision feature. Whenever you or WordPress saves a post or a page, it automatically creates a revision and stores in your WordPress database. Each additional revision will slowly increase the size of your database. If you save a post or page multiple times, your number of revisions will greatly increase overtime. For example, if you have 100 posts and each post has 10 revisions you could be storing up to 1,000 copies of older data!
It's high time to clean up the unwanted mess in your WordPress database.
How to Delete Old WordPress Revisions?
The WP-Optimize plugin is your #1 choice to quickly and easily removing revision from your WordPress database. Try it out today to see what a lighter and smaller WordPress database can do for you! WP-Optimize removes these unnecessary post revisions, freeing up valuable Megabytes of data and increasing speed and efficiency.
WP-Optimize has over 600,000+ active installs with a 4.8 out of 5 star rating.
Logon to your WordPress blog
Goto Plugins and Search for "WP-Optimize" (Refer below image to select the right plugin)

Click Install and Activate it.
Once you have installed it click into WP-Optimize on your sidebar within your WordPress dashboard.
It displays many options like Optimize database tables, Clean all post revisions, Remove spam and trashed comments, Clean all auto-drafts and trashed posts.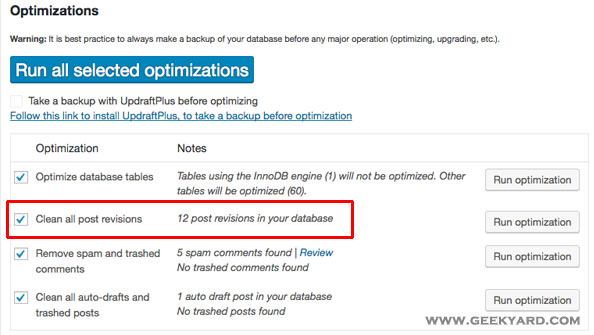 You can select "Clean all post revisions" and click Run optimization. I usually run all the 5 options that's been displayed by default.
You have now successfully removed all the unwanted garbages from your WordPress database.
Conclusion:
Thus, deleting old post revisions and optimizing database plays a vital role in site speed and increase blog traffic. I usually do this optimizations 15 days once to avoid unnecessary WordPress space accumulation.
Keep your WordPress database clean from unwanted garbages!!!
Feel free to share your views in comment section.