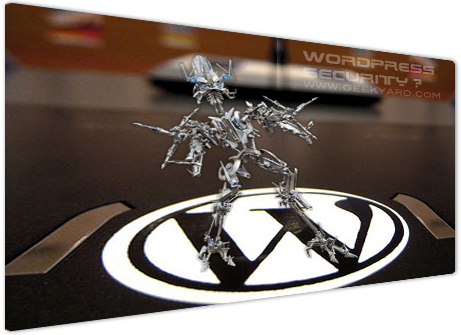 If you're a blogger, there's more to your job than just writing great content and implementing killer SEO techniques. A hacker can ruin several weeks worth of work in less than a few minutes and can cause your blog's reputation to plummet. It's important that you anticipate this and take appropriate action in order to prevent a hacker from gaining access to your blog and wrecking havoc.Protect your WordPress blog easily following these 5 security tips. You can make your WordPress blog hacker proof and tighten your WP Security.
5 Best Ways to Improve WordPress Security
1. Install Security Plug-ins.
The best way to protect your blog from hackers is to install plug-ins that were designed to protect sensitive information. If you're a WordPress user, for example, Secure WordPress runs in the background once you install it and works to keep your information hidden from public directories. WordPress Firewall Plug-in takes similar security measures and blacklists and whitelists suspicious phrases and codes.
Is your WordPress blog infected with virus and struggling how to remove it? Then checkout this WP security article, How to Remove Malware, iFrame Virus From Your WordPress Blog?
2. Set a strong password and never disclose it.
Protect your WordPress blog by Creating a long password with unusual characters. Having a strong password is one of the only ways of protecting yourself against Brute Force Strength attacks. And don't ever tell anyone what your password is. There's an old Seinfeld episode where people are bullying George Costanza into telling them his bank pin number. He adamantly refuses for the entire episode. You could learn a lesson from this—don't divulge your blog password. Also don't type it in on an insecure computers in public settings. Hackers have been known to shoulder surf. Also, don't choose Admin as your login name. Read,  This does half the work for the hackers.
3. Hide your version number and always update to the newest version.
Since WordPress is an open source application, crowd sourcing users are always discovering loopholes and releasing new versions in order to maintain high-level security. Take advantage of this community by frequently updating and keeping that information private.
Checkout:  How to Disable Server Signature by Editing .htaccess? and WangGuard Plugin: Stop WordPress User Registration Spam.
4. Protect against SQL injection.
SQL injections are when hackers manipulate a website's database– most often seen in contact forms—in order to embed a code and trick the system into revealing something. One way to prevent this is to disable content forms and to use object-rational mapping libraries and escape characters. WordPress Firewall Plug-in also helps with SQL injection.
5. Know your file permissions.
Some of your information could be set to public viewing by default and it's your responsibility to go in and shore up your account. Your 'configuration file,' for instance, is a text document that contains your password and username right out in the open in the wp-config.php file in your admin directory.
There is no sure-fire security against hacking. Hackers are getting bolder and their techniques are getting more efficient. That's why it's important to stay abreast of the latest plug-in's and defensive techniques to protect your blog's security. If people think your blog is a security hazard, you can kiss traffic goodbye.