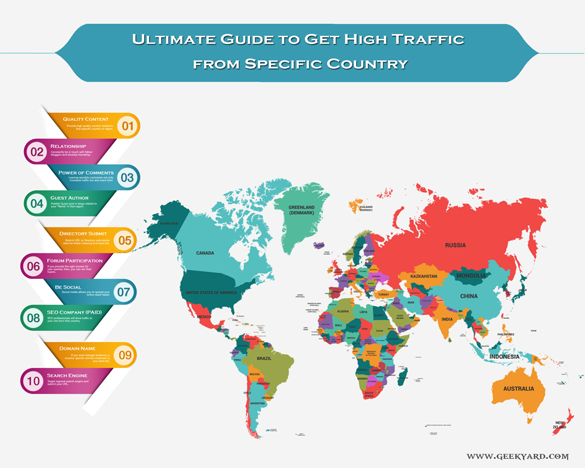 Getting traffic from a specific country is not a big deal!!! In this post, I'll show you how to drive huge traffic from a specific country or region step-by-step. I expect that you'll feel confident by the end of the post.
Let's now see various ways to drive traffic from a specific country or region.
What are the best ways to get web traffic from a specific country?
There are "N" number of ways to drive website traffic from a Geo location. And in this article I have shared 10 most important things which will help you to achieve your goal. Here let's take an example of driving traffic from Canada.
Top 10 Ways to Boost Traffic from Specific Country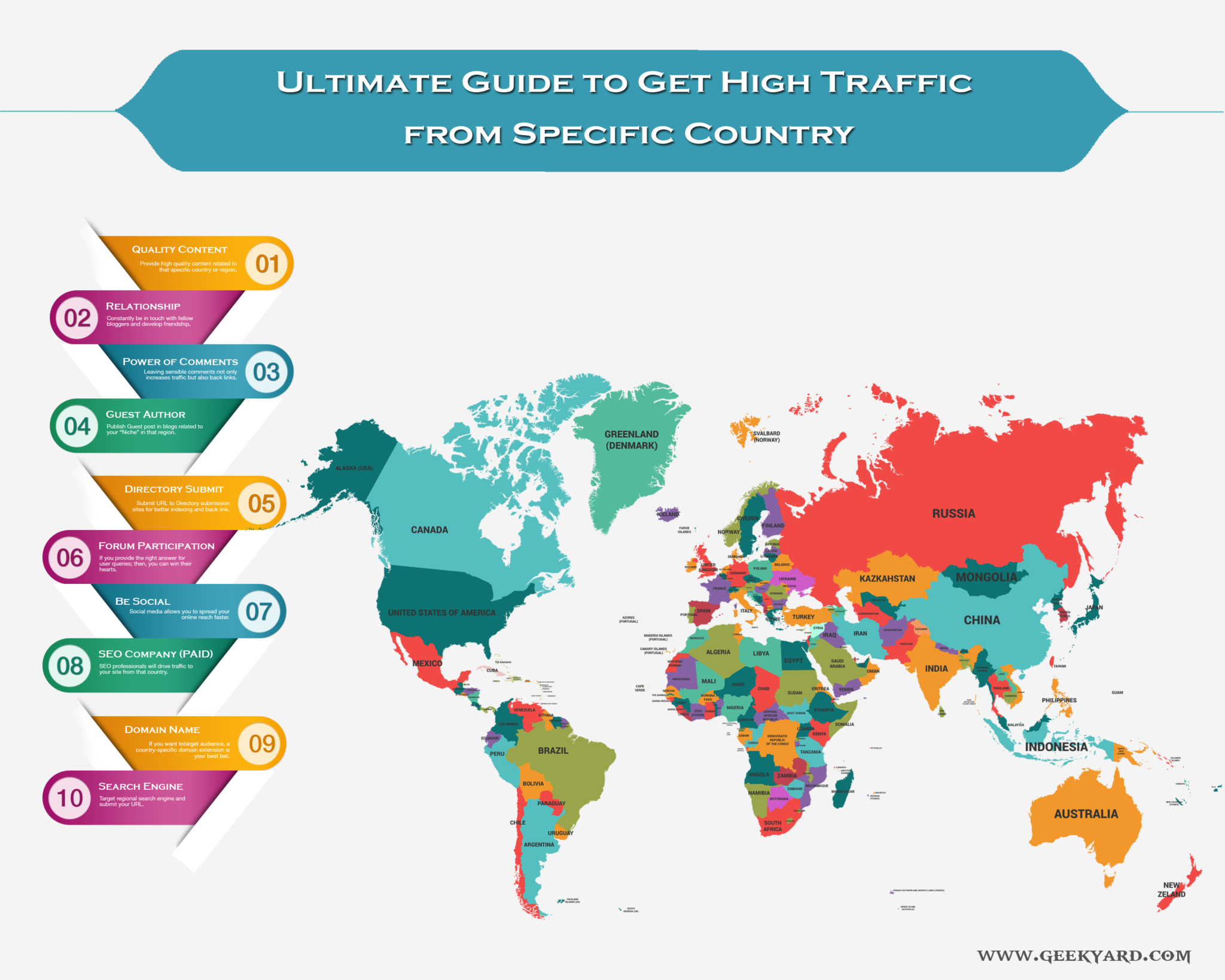 Click here to download PDF version of above Infographic.
1. Drive Traffic through Blog Contents
I would say content is the primary source of traffic. Ask yourself what article or blog post should I write to attract people from a specific country? The answer is simple give contents related to Canada.
"Content is King" – Bill Gates
Publish as many articles as you can. There is no limit for good articles. If you take a look at techpraveen.com I would have published more that 1000+ articles.
Is there any limit to article length?
Keep in your mind that as per SEO Guidelines you must write at least 300 words post. If you are newbie then read Top 6 big mistakes of new bloggers. I will discuss this further with different scenario.
If you are running a "News Blog", cover topics related to Canada. Example: Canada Politics, Canada Weather or Climate details, Important Events in and around Canada.
Hey Praveen, I am running a "Travel Blog" how to increase traffic? It's simple, publish articles related to places in and around Canada. For example, publish articles regarding Historic places, Aquariums, Zoo, Trekking, Theme parks, popular Hotels and Café, travel routes…, etc.
Google is Giant. Yes, make use of Google Trends to publish trending topics. This will drive enormous traffic to your blog.
Who doesn't love Gossips? That too Celebrity Gossips!!! Publish these gossips to attract traffic to your site. Trust me many people will engage on these topics by leaving comments.
"People need stories more than bread itself. They tell us how to live, and why." – Arabian Nights.
I hope you would be now got an idea on what to publish to attract people's attention from a specific area.
2. Engage with fellow bloggers in that country
Constantly be in touch with fellow bloggers in that region. This is basically coherent but worth trying. Make associations with more Canada bloggers.  Email is a powerful tool to build personal relationship with fellow bloggers.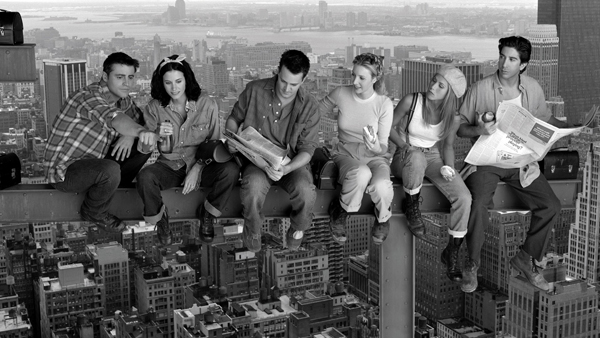 Here's how:
Get in touch and run interview with top bloggers. And publish the same in your site.
Know what are the top articles of top bloggers in Canada region and share their post to get their attention.
Every month or year there might be blogger's meet up in your city. It is like seminars where bloggers from different niche will meet each other.
They share ideas and discuss changes that are going inside the blogging industry.
You meet bloggers with the diverse background. It is one of the great ways meetings and engaging with new bloggers.
You feel like a community.
There is nothing like meeting them in person than chatting or sending an email online.
So always keep an eye if there is a new blogger's meet up in your city.
Create personal bond with them. And this is very important.
In the long run, it will help you getting more traffic hence more money.
3. Follow and comment on fellow bloggers
You will never know the power of leaving a comment unless you see the real time traffic from it. In an Excel sheet list down high domain authority sites and start commenting.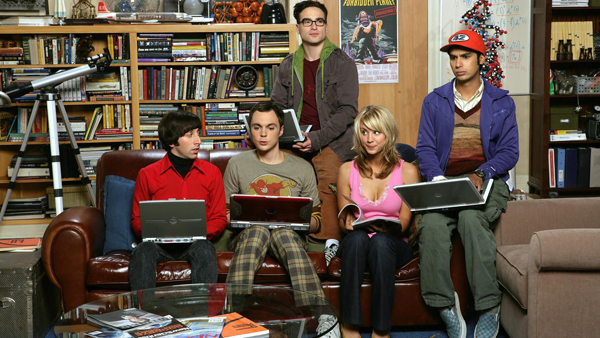 Leaving a comment in blogs not only increases back links but also traffic. Oh yeah! this is one of the proven method to boost traffic.
Sometimes people leave useless comments; consequently, their comments are considered as Spam comment.
So, read Useful tips for comment writing to avoid your comments getting into Spam box.
To know the blog commenting SEO importance read this article, Blog Commenting: Waste of Time or Effective SEO-strategy.
Once you drive traffic from their site make incoming visitors to leave comment on your site. So, how to do it? Make your blog as DoFollow with CommentLuv Plugin. And explain the incoming visitors the advantages of commenting in your blog.
Finally, make use of Thank me Later WordPress Plugin to make commented people revisit your site.
What a quick and quality backlink? What are you waitin for? Just leave a comment in Geekyard.
4. Write Guest post
Guest posting is one of the powerful method of driving traffic from a particular site. "Guest posting" means writing and publishing an article on someone else's website or blog.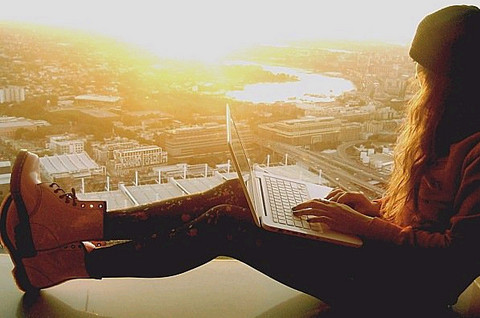 I offer this on my own site and do it quite a bit on other blogs with audiences that I want to speak to. It's a great way to connect with new readers and get your name out. And this gives long term SEO benefit by all means.
To start with, collect a list of blogs similar to your niche. After that, submit your articles for webmaster's review.
This lets you to add your link in "Author Bio" info section at the end of the post.
If your article is mind blowing, then it will drive huge traffic to your site. So, write impressive articles to attract more and more people.
Above all, guest post has got many SEO advantages.
What a quick quick backlink with SEO benefits to drive traffic? Then, you can try a Guest post in Geekyard. Geekyard provides 100% Revenue sharing program. So, you get triple benefit of backlink, traffic and popularity.
5. Directory Submission
Now let's focus on directory submission method. Directory submission is a sort of site submission where you submit your site to other online web index.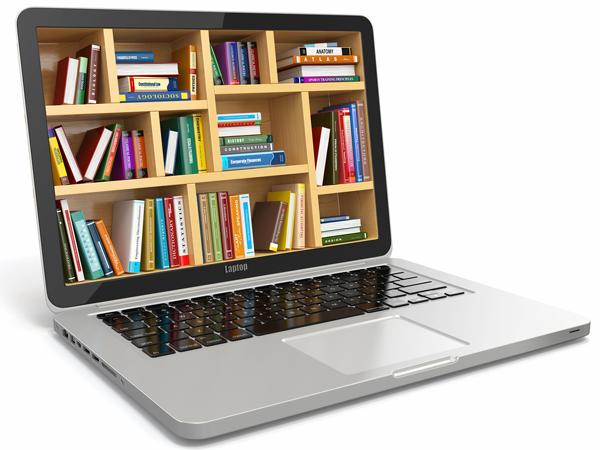 Directory submission in SEO is process of submitting our website URL on various business directories or web directories to create backlinks. Backlinks are used by search engines to improve ranking.
Get a list of "Free Directory Submission" sites list in that country or region.
Prepare a word document containing URL name, site title, site description, meta description, meta keywords and tags.
This will make your life easier for directory submission.
6. Forum Participation
Most of the netizen spend time in online forums. Engage yourself in online forums which allows user to add URL in signature.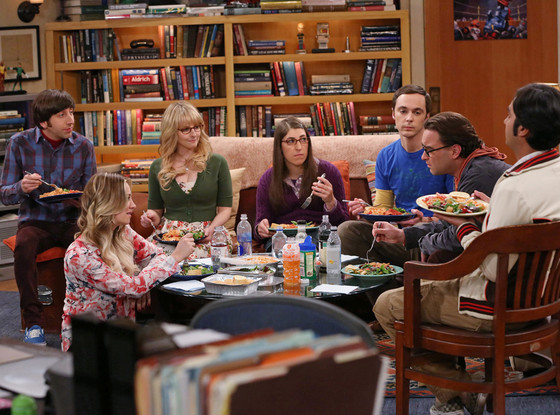 You need to actively participate in Forum discussion to get people's attention.
If you provide the right answer for user queries; then, you can win their hearts.
As a result, they will follow your blog URL. Ultimately, you get huge traffic from forums.
Forum posting is the greatest way to make back links. Check, Top 100 Dofollow Forums To Increase Backlinks.
Linking your site in Forum allows you to boost you're the link popularity of your website. Hence, your search engine rank will increase and brings more organic traffic.
Through forum you can get direct referrals and lead from these forums.
Forums are well cached by search engines. So, Search engine can crawl your web pages easily.
Forum part is not an easy thing. You need to invest lot of time in that to see the results.
Trust me forums participation helps you to get free website traffic from specific countries or cities.
7. Get High Traffic with Social Media Engagement
Is Social participation important? Yes, Social Media participation is one of the important criteria for SEO. Search engines becomes smarter day-to-day and we need to evolve accordingly. Make sure that you have added Social sharing widgets in blog post for easy sharing.
Benefits of Social Media for Blog Promotion
Social media allows you to spread your online reach faster.
Active social media profiles drive high quality website traffic.
Social media increases website popularity.
Boost web traffic with strong social media connection.
Social media gives you a team of "link builders"
Create Geo-Focused Twitter account.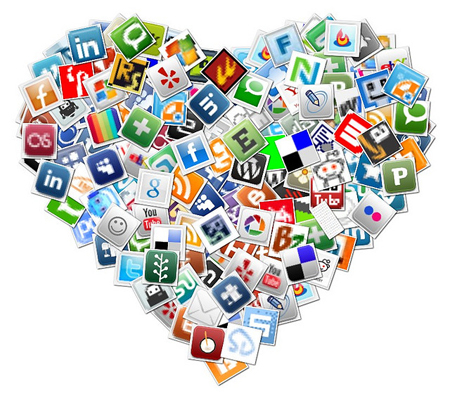 So, how to drive traffic from Specific country using social media?
The answer is simple, join social community in that region.
Share your views and links in Canada social groups and community.
As you build your social media following on Facebook, twitter, Google+, LinkedIn, Pinterest, and others, you build up a large following of people that have the ability to share your content.
Social Activity is important for brand awareness and repeat visitors.
How to Check Social SEO Results?
You can use SEO Site audit tools to see how good or bad is your Social connectivity.
http://www.seoptimer.com/
8. SEO Companies (PAID Method)
If you don't have patience to do it yourself; then, offload your work to paid SEO service. SEO professionals will drive traffic to your site from that country.
Try this method only if you don't have time or patience. Else, I would recommend you to experiment yourself the rest of the methods to get traffic explosion.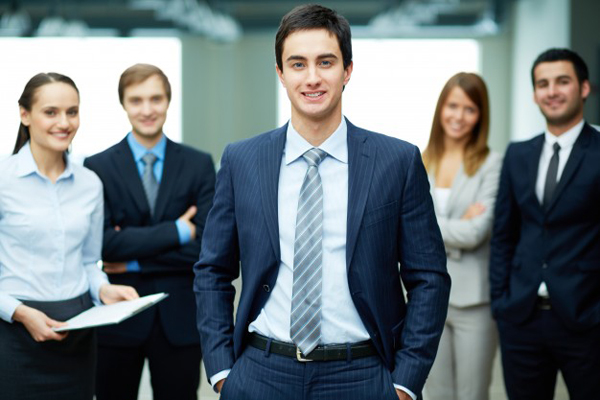 Why Hire a Skilled SEO Professional?
Choosing to hire SEO experts or team with the relevant skill for executing the SEO process is highly influential in reaching your business goals. In SEO ethics, it would be fair to describe 'hiring' as, 'As you sow so shall you reap' approach, i.e. hiring the perfect SEO specialist plays inevitable role in achieving desired business objectives.
Extensive expertise in providing complete internet marketing solutions like SMM, PPC, display media etc.
Masters in implementing appropriate tools/campaigns for the website's growth.
Strong analytical skills to act efficiently on the targets.
Profound knowledge of technical architecture, Google Analytics and Web master tools.
9. Domain Name plays a vital role
Usually, top level domain extensions like .com and .org usually rank higher on global search engines, but in order to have your blog or website target a specific country. But buying a country-specific domain is always a good idea.
You might have noticed many Indian blogs with .co.in domain extension, and they rank pretty high in the Indian Google Search. For getting traffic from Canada, grab a .ca domain extension for best results.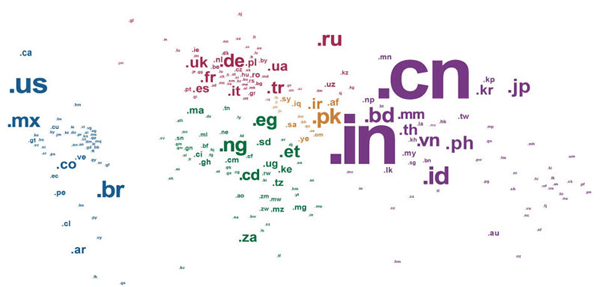 In order to preserve your brand, you can also buy other top level domains like .com or .org.  But one major disadvantage of this idea is that you will find it very hard to rank on other country-specific search engines.  So, if your goal is clear and you know your target audience, a country-specific domain extension is your best bet.
Choosing a right domain name also plays a vital role in traffic.
10. Submit URL to Search Engines
The method of driving traffic from a country is by targeting regional search engine. Get the popular search engine of that country and submit your URL. Check, Top 50 Search Engines.
Country-wise List of Search Engines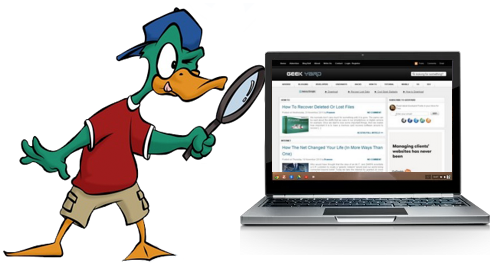 Checkout, Search Engine Colossus website to explore 317 countries and territories. This site is International directory of Search Engines and it covers most of sites for site submission.
Tips for adding URL in Search Engines
Creating and submitting a Sitemap helps make sure that search engines like Google, Yahoo, Bing, Ask knows about all the pages on your site, including URLs that may not be discoverable by Search engines normal crawling process.
Google Analytics Tool to Analyse Geo Traffic
In order to know where from which world location you are getting visitors "Google Analytics" is best way.
Hope you have already set up Google Analytics account and using the same in your website.
Login to your Google Analytics
In the Reporting Page go to "Geo" and click on "Location"
This page shall be providing the overall Geolocation traffic details in Global map view. Refer below screen of Geekyard traffic (Click on the image to get Enlarged Image)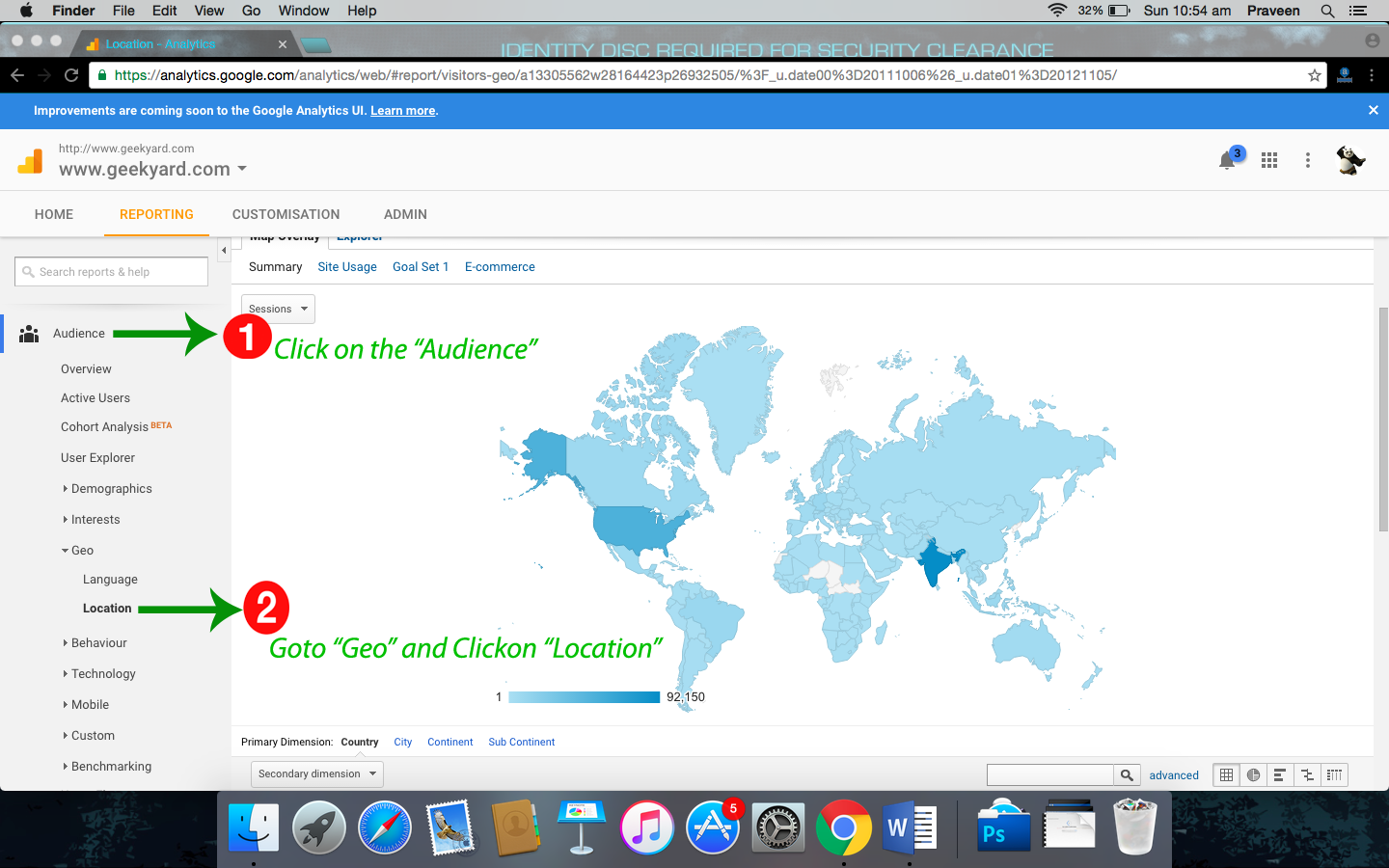 I get most of the traffic from these countries: India, USA, UK, Germany, Brazil, Philippines, Indonesia, Canada, Malaysia. (Click on the image to get Enlarged Image)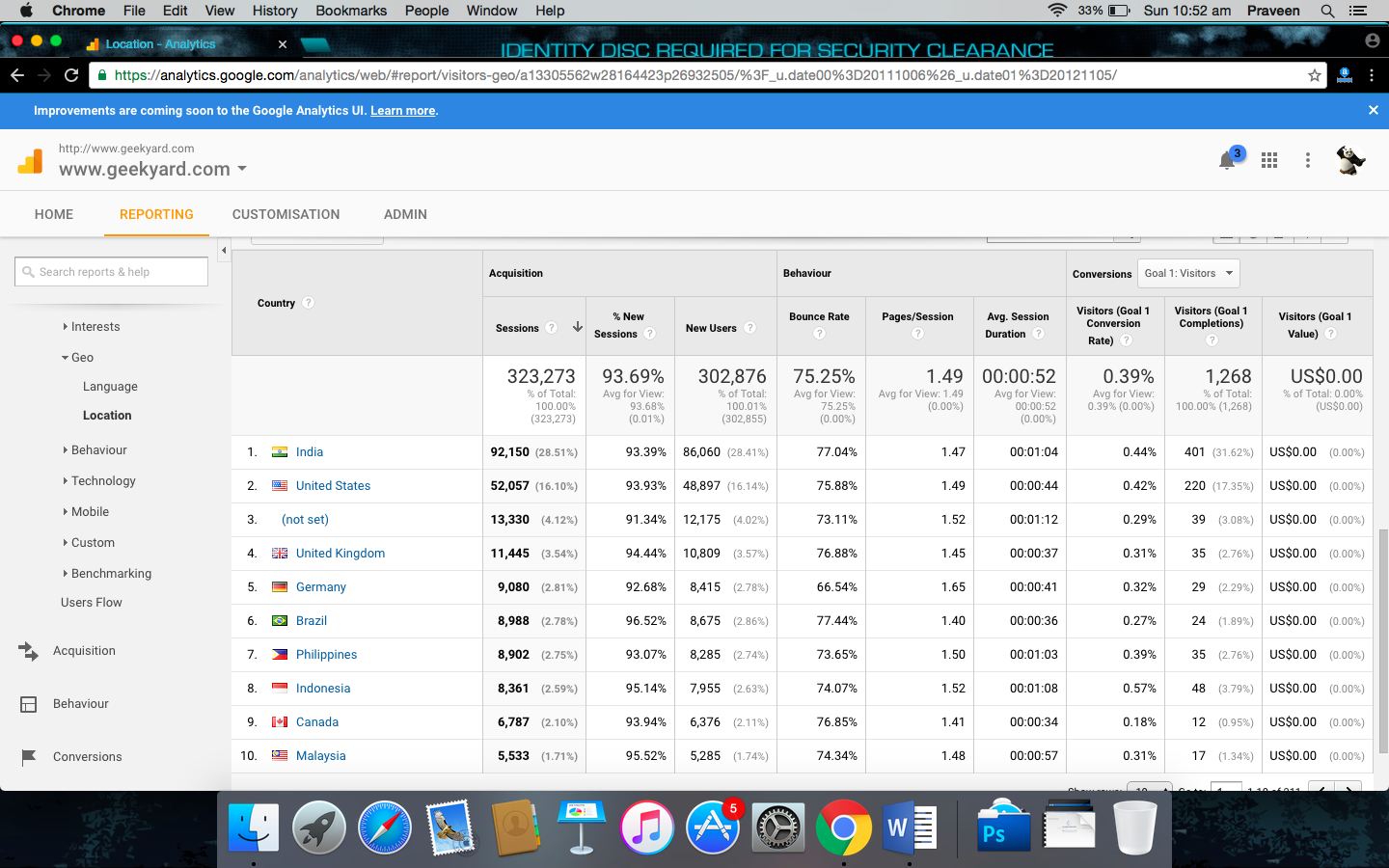 Being an Indian blogger I get most of the traffic from India.
Conclusion
Start implementing the various method I demonstrated in this article. I hope this article will you boost your traffic from a Geolocation by all means. If you have better ideas of getting traffic from a particular location, please feel free to share it in comment section.