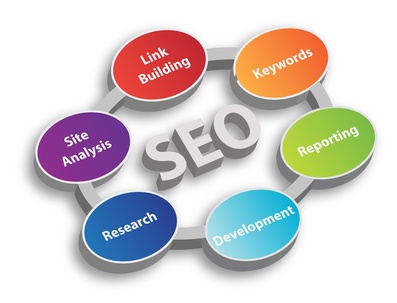 When you started researching the world of Search Engine Optimization(SEO) you probably found that it was much more complicated than you first thought, and you may be tempted to run off in many different directions while trying to do too many things at once. This is why setting goals early in the process can be helpful.
Earlier I have explained in detail the "5 SEO Advantages of doing Guest Blogging" and the importance of Keyword Research tools.
Checkout: Ultimate Guide to Get High Web Traffic from Specific Country
4 Easy Steps for Setting Goals for Better SEO
If you follow the following SEO tips then you can drive heavy Organic traffic to your website for sure. If you WordPress blogger then read.
1. Be Realistic
This is very important. You must be realistic in what you hope to accomplish, so your goals should be dictated by things such as how much time and/or money you have to invest in search engine optimization as well as how new your company or website is.
It is not realistic for a new website to rank highly for keywords and phrases that are already being targeted by others with much more time in the game, and much more money to spend on getting those rankings. In the beginning you could try to focus on more specific search terms, known as long tail keywords, which will bring in less traffic but will also have less competition while more general phrases have high traffic but also have a huge amount of competition to rank well.
2. Go For Tangible Benefits
For most people, the end goal of search engine optimization is not simply to have high rankings and pull in large amounts of traffic; the goal is to be able to monetize this traffic. You may be able to pull in a lot of traffic with certain keywords, but if it is landing on the wrong page or is just not appropriate for your website then those visitors are really just eating up your bandwidth for little to no benefit.
There are many services such as Lead to Conversion which will help a great deal in forming a strategy for your individual needs, and also help with keyword research, page optimization, link development, and other important elements.
3. Beat Your Competitors
As with any other part of your business, beating the competition should always be a goal. In the case of SEO, it is not all that difficult for an experienced person to analyze your competitor'sSearch Engine Optimization(SEO) strategy to find out what they are doing right and whether there are any weaknesses that you could benefit from. But again with this aspect of optimization you need to be realistic about how big of a competitor you think you can "take down" in the rankings.
4. Dominate Local Area Searches
If your business has a main base of operation, or area of service, you should focus on that with relevant keywords and put a lot of effort into this part of yourSearch Engine Optimization(SEO) strategy. For example if you are optimizing for a carpet cleaning business, focusing on "New York City carpet cleaners" and also getting even more specific than that can result in a much great return on investment than trying for high rankings on more general search terms.
Obviously this type of local targeting will not be as useful for nationwide or global businesses in most cases, as you may end up spreading your efforts too thinly in an attempt to target too many local areas and different keywords.
Depending on what you hope to get out of your search marketing, you may not be able to handle it alone. If you decide to hire outside help or buy software, you need to realize that there is no magic button that can be pressed to instantly get you to #1 so you must always be patient and realistic.