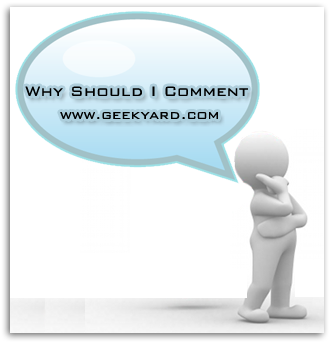 By commenting you can easily build
back links
by which you can
drive high traffic
to your Blog. I often download and watch
Youtube videos
on
Driving high traffic, Increasing Google Page rank, Increasing Adesense revenue
videos. I found how comments are important for back linking which in turn boosts your
Page rank
&
traffic
. Which ever article I read I just add a
useful comment
over there. Its very important that you provide a meanigful comments. Commenting also helps to build
good realation
with other
Bloggers
.
Avoid Following Comment Keywords:
Thank you
Nice info
Great Share
Useful posts
Amazing Post
The above keywords are generally considered as Spam comments.So avoid commenting those keywords.Your comments should provide meaninful discussion related to that article right ? So that the author can publish your comments.
Some Useful Tips For Comment Writing
Signup for Gravatar, so that you can add your personal image into your comment profile.
Express clearly what you liked in that article.
If you can't get any clear info about the article feel free to post doubts in comment.
Have you tweeted or Digg the post? If yes, tell him about it.
If you wish ask related links regarding that topic.
You just provide alternative or any simpler methods if you are commenting troubleshooting articles.
What you think about this article….Just start expressing your views to other Geekyard blog readers.