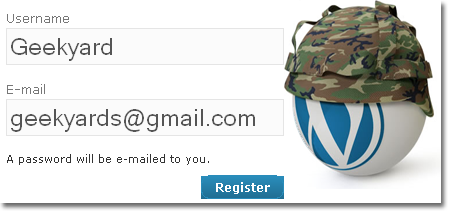 When Geekyard was started we were facing lots of registration spam from @mail.ru. This was very annoying.This @mail.ru registration spam in WordPress is due to Bot.We installed Sabre plugin to block spam registrations.Sabre is an acronym for Simple Anti Bot Registration Engine. It's a set of counter measures against spam registration on your blog.
Here is the screenshot of New user Registration spam,

After Installing Sabre we got rid off those @mail.ru registrations. Some of the cool features of Sabre pulgin are,
Inclusion of a captcha in the registration form
Inclusion of a math test in the registration form
Inclusion of a text test in the registration form
Registration blocked if Javascript is unsupported by the browser
Registration blocked if visitor's IP address is found on ban lists
Custom logo on logon/registration screen
Enjoy a spam free blog 🙂 .
Also checkout how we reduced spam comments in WordPress blog with 2 simple methods. 😉