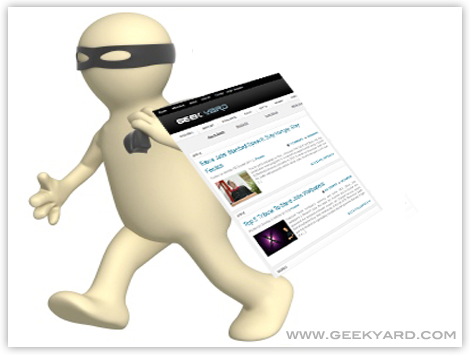 Have you ever suffered from content theft? It's a very common problem nowadays. Bloggers are finding their website content as well as even images have been stolen& are used by others without their permission.Content theft has been a real pain for the bloggers as well as for the webmasters.
We cannot completely eliminate this problem. But still by adopting few steps we can save our content. Many free and easy to use tools are available to deal with this problem. Copyscape and copysentry offers you a free service by which you can check whether your content has been copied or not.
Here, we are going to suggest you few steps that you need to follow to save yours' precious content from theft.
By configuring your RSS feed: – It will add more protection to your blog content. You can enable this option from reading settings that control how your blog is presented to visitors. You can easily access it through your Settings -> Reading page.  Don't provide full contents in your feeds because lazy scrapper just copy the content from RSS Feed directly instead of manually checking the complete website. You can also add digital finger prints to your RSS feed. You can make use of RSS footer plugin to do this. Now, you must thinking that a spammer can remove such thing but see you have content copying quite difficult for him.
By placing a Copyright Notice: You must include a copyright notice page on your blog, which clearly specifies what is allowed & what is not allowed on your blog. A copyright notice should be placed at the appropriate position so that it is visible all the times. To do this you can make use of text widget from Appearance -> Widgets in the menu.You can place a copyright notice in your sidebar, on your about-us page or on every single post you write.
By using watermarks on images: This task will take some time while doing this using photo editing tool and it will also make the images less attractive if done improperly. Such kind of images serves as a warning to thieves that you are alert about your web content and can go by any extent for its protection. You can put watermark using Photoshop etc.
By disabling right click: It will protect content from theft by disabling spammers and plagiarists from selecting, copying & saving the content but it will also annoy valid viewers.
By reducing image size: Sometimes small size images are not useful for the spammers because if they try to increase the image size then it will result in poor resolution.By using photo editing software you can easily reduce the size of your images.
Gets your content including images registered: If you really want to protect your content then don't forget to register your work. You can patent your website, its text & images. To follow this you need to study about copyright rules and regulations.