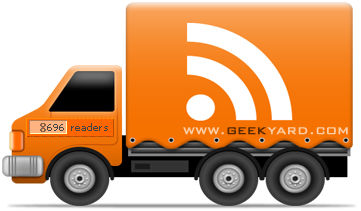 RSS feed subscriber count, Twitter followers count, Facebook fan box shows how much popular a blog is. Bloggers use Feedbuner account and tools provided by them to add subscription in their blog. Feedburner is great because it enables the person to keep up to date with a website's content.Feedburner provides various statistic details related to your feed subscribers, from which articles they read – whether through emails or if they use any other feed subscribe services.
Many newbie bloggers add fake feedcount to make an impression to visitors that his/her blog is popular.This Feedburner count can also act as a bench mark to advertisers, as advertisers can analyze how popular the site is, depending on the number of subscribers.
So, How to find the real feedcount of a site?
1. First of all get the feed URL of the blog or site. e.g: here is my site feed URL,
http://feeds2.feedburner.com/Geekyard
2. Now add ~fc/ to the above URL after .com/, so the URL,
http://feeds2.feedburner.com/~fc/Geekyard
3. This will show you the real RSS feed subscriber count for any blog. 😉
Note:
This trick will only work if the author of the blog has enabled the chicklet display service if not you'll get a message saying :
"FeedCount is not enabled for that feed
Error 403″
If  you have some other method. Please share it here 🙂