Website owners
can add
Facebook Fan page widget
to their sites to
attract
and
gain attention
of people who visit their site.By adding a
Facebook fan box
to your website you're allowing your
fans, blog readers, customers
or
friends
to see your site popularity.Here are the
simple steps
to add 
Facebook Fan page widget code
to your site.
1. First of all you must have a Facebook Pan Page.
2. Goto your Facebook fan page and get Facebook Page ID from URL.


3. After getting ID goto this page .
4. I suggest you to first disable  the news stream from the group. Do that by unchecking the box adjacent to "Show stream".
5. Adjust width according to your blog sidebar width, so it fits properly.
6. After that click Get Code.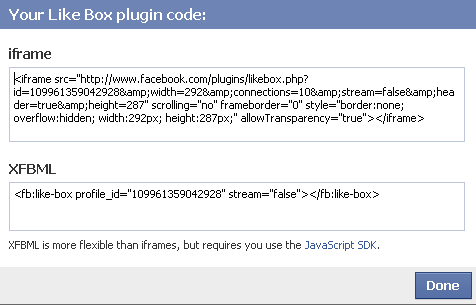 Simply copy and paste the code in the first box, an iframe, into the HTML source of your page or blog template, and you should be good to go!
How To Add Facebook Fan Box to Blogger/Blogspot Blog?
1. Login to your Blogger account.
2. Goto Dashboard–>Design.
3. In Page Element click Add a Gadget.
4. Select HTML/JavaScript, now paste the above copied code here.
5. Click Save.
Now any Facebook users can click on the widget and add himself as a Fan of your blog.
Do You Love Geekyard?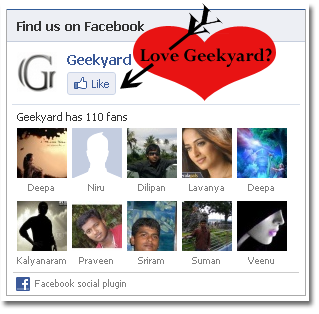 If you enjoying reading Geekyard. What you are waiting for? Just subscribe to Geekyard updates and click like button in Fan box.Then Suggest to your friends. 🙂