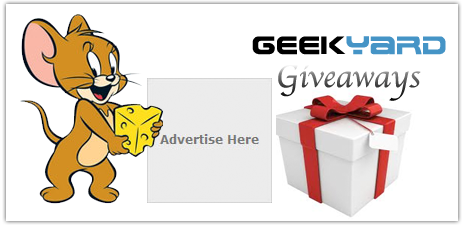 We are providing more and more advantages for the visitors and fellow bloggers. And this new Ad Slot giveaway is one among them.We feel that if you win a FREE Ad slot in Geekyard your blog traffic will increase and its a best place to promote software or other lifestyle products. 🙂 Participate and win a FREE Ad slot. We will be providing 5 Ad slots for 5 winners.
Benefits of Geekyard
1. DoFollow And CommentLuv Enabled In Geekyard Blog
Get high backlinks, SEO and web traffic by commenting on Geekyard Blog.Geekyard is Dofollow blog and commentLuv enabled blog.By doing so we help our blog readers to gain more SEO benefits from Geekyard.We see to that our blog visitors get maximum benefit from our site. 🙂
2. 100% Revenue sharing program
Geekyard got PR3 and a quite good amount of web traffic.:) So we decided to give my Guest authors a chance to get 100% adsense revenue for their posts. As an Guest author, you will have ONLY your own AdSense content ad unit displayed on every post you publish at Geekyard. You will get revenue for your posts throughout your life. I guess this can't be made any simpler than this! 🙂
How to Win FREE Ad Slot from Geekyard?
Just write an article of 100-150 words what you feel about Geekyard in your blog or website. After publishing the article in your blog, share the link in the comment section of this post. Then you are In. 🙂
Checkout this demo link, Geekyard Giveaways Ads Slot Worth $180 For a Month – Techpraveen
The above link will be highly useful for you to write the article.
Is Their Any Rules?
Say suppose you have 3 blogs. The question that comes to your mind is can I write an article about Geekyard in 3 different blogs? Yes, If you have more sites you can participate. The probability of winning chances will be more 🙂 But please note that each person win only ONE Ad slot. The only advantage of writing in more site is that the chances of winning will be more 😉 We would like to give Free Ad slot of 5 different members 🙂
What Ad Slots will be given for Winners?
The below two Ads provide maximum exposure to visitors and will have high impression rate. Last date to enter this contest is 10 Jan 2012. This contest will run for 1 month.
1. First Prize: 300×250: Sidebar (Placement: Sidebar TOP Right) ($60/month)
2. Second Prize: 125×125: Below Posts(MAX EXPOSURE TO VISITORS) ($30/month)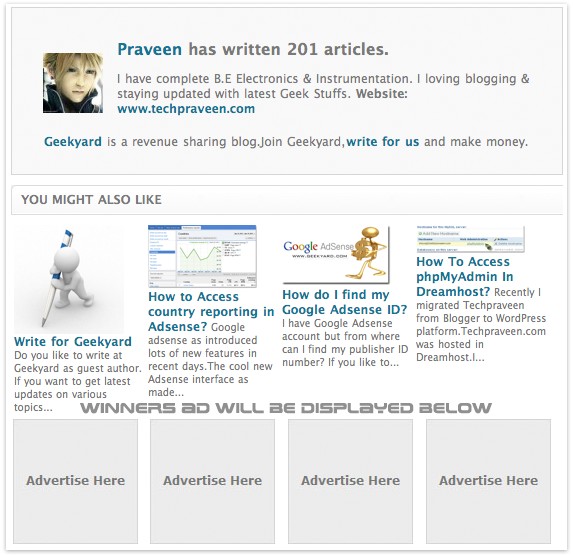 Four people will be getting this ad slots. These ads will be displayed under every post this will grab attention on readers 🙂 So, why you are waiting? Write a article share the link in the Comments below and win a Ad slot 🙂
The winners will be announced on 12 Jan 2012. The winners will be selected randomly. Please keep your Ads ready. Good Luck!!:)
Follow us on Facebook and Twitter to stay updated with future Giveaways.