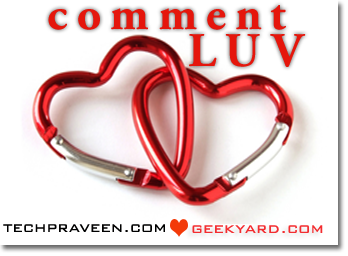 Get high backlinks, SEO and web traffic by commenting on Geekyard Blog.We have already made Geekyard as Dofollow blog few months back.And now its commentLuv enabled blog.By doing so we help our blog readers to gain more SEO benefits from Geekyard.We see to that our blog visitors get maximum benefit from our site 🙂
What is a Dofollow Blog?
Dofollow blogs play a vital role in backlinking. Search engines use programs called search bots or web crawlers to access the index web pages. Thats how your blog pages are displayed in  popular search engines like Google, Yahoo and Bing.People who comment on dofollow blogs  and forums will have SEO benefits.Which in turn helps them to drive more traffic to their blogs.Checkout, List of Top 100 Dofollow Forums To Increase Backlinks. 😉
What is CommentLuv?
The Comment Luv plugin inserts a link to your most recent post, when you leave a comment on Geekyard.Cool isn't it?  ;).

Keep visiting Geekyard for staying updated with latest Tech information 🙂 Start commenting and gain more traffic and backlinks from our site 😉
What Next?
Are you a blogger? Need to provide SEO benefits to your blog readers then checkout,
Enjoy Commenting 😉