Most of the blog users might be aware of SEO(Search Engine Optimization) to boost their blog traffic.One of the best way of increasing SEO is pinging your Blog contents to various search engine. Can you just go and ping all search engines manually ? It's a tedious process right ?
So, use automatic pinging services.Recently I came across BlogBuzzer – Pinging serivce.You can out-source your articles to various search engines easily with BlogBuzzer. BlogBuzzer is a boon to Newbie bloggers.
Free Service Provided by "BlogBuzzer"
BlogBuzzer submits your blog posts to a number of blog directories including Blog Catalog, Blog Hub, Blog Intro, Blog Pulse, Blog Rolling, Google Blogsearch, Newgator,Twingly,Syndic 8,Weblogs etc…
Just Follow these Steps:
1. Go to the BlogBuzzer Home Page.
2. Enter Your Blog name & URL.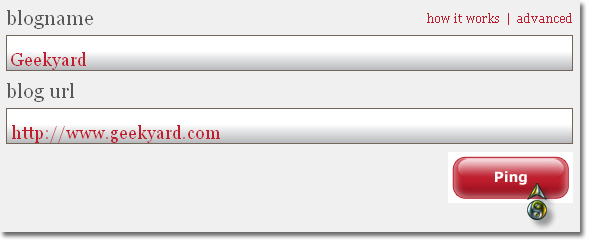 3. Now click on the Ping Button.
4. BlogBuzzer will ping your blog to the blog directories and will show the status.
Features Offered For "Premium Members"
BlogBuzzer Premium will automatically monitor all of your blogs and ping them whenever they are updated.

Along with the

standard blog directory sites that are pinged by BlogBuzzer your blogs will also be submitted to other major directories include Delicious, StumbleUpon , Twitter, Google, Yahoo, Bing and Ask.com
Premium Membership is just 9$/year
Membership Benefits
Ability to add up to 5 blogs to your account that will be automatically monitored and pinged when updated.
Automatic submission and tracking of your blogs to social media site including: Twitter, Delicious and Stumbleupon.
Ability to ping any blogs as often as you like.