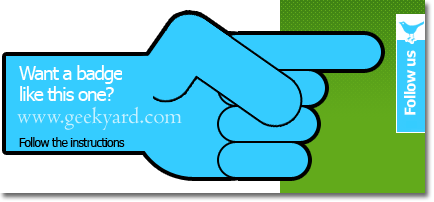 Every blogger wants that the every visitors are keep visiting there blog as up-to-date and regularly.. so blogger author usually do the known method of keeping visitors with latest update to there blog with the help of Feedburner.. Nowadays also do there blog post are also tagged with all major bookmarking sites.. here the blog post reach everyone.. the one of the most interesting site is Twitter….. so twitter following people is easily link to their blogger post link… In Geekyard we published How to add retweet button for WordPress blog users…. so the following visitors are keep closed to the website whether they would visit or not that website…
So first thing is putting badge on blogger sites to keep the visitor could follows the website on twitter… here there is lot of websites providing the badges( like Twitter button).. the interesting thing animated twitter button or floating twitter button.
Let see the step to Floating twitter badges on blog
First go to this site go2web20.net/twitterFollowBadge/
Now fill your twitter account name (http://twitter/_______)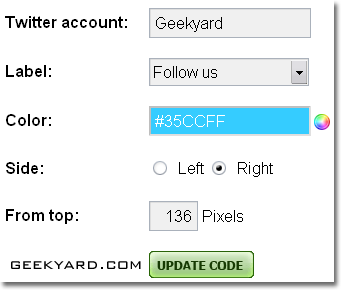 Select the label name. (i.e.. Follow us, Follow Me),
Select the color code,
Select the location which is place on your blog..
Then click Update Code,
You will get a code as shown below,Just copy(Ctrl+c) it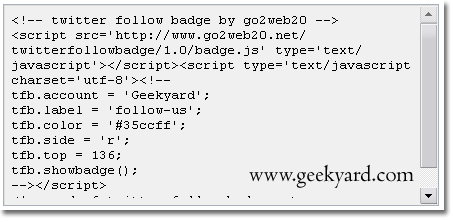 Let see how to put the code to blogger
Open blogger.com
Now sign in to your own account,
On the Dashboard. Select Design or Layout.
Now Select The page element.
Now hit Add Gadget and select +HTML/Java Script..
Now Paste the code where is get from the above section
Now Hit save button. Also Click Save on page elements section.
Now open your blogger page..
Now you can see a new Twitter badge is floating on your blog site. Wherever you Scroll your page,twitter button also floats along with blog page..