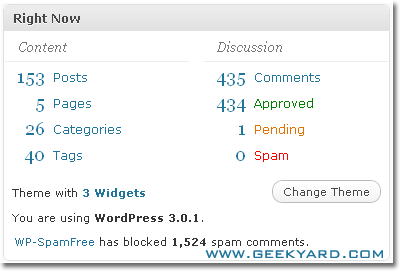 There are so many
techniques
avaiable to
prevent spam comments
in
WordPress blog
.You need find and fight against them daily.When
Geekyard
was started for first few months we were facing
spam comment problem
.Every time when I login to
WordPress dashboard
, 100's of spam comments will be waiting to be deleted.
New WordPress users will find it difficult to differentiate between regular comments and spam comments.Because sometime spam comments appear to be as natural comment.Hence, you have to find and fight your way to prevent spam comments in your blog. In this article I will tell two techniques which worked out well in Geekyard to prevent spams.We reduced 100's Spam comments to 0-1 per day. 😉
What is Blog Comment Spam?
Spam comments
are posted
automatically
in blogs by
automated bots
or some
softwares
. The goal of
spam commenter
is to leave a link of their site in your blog. Spam commenters mainly target
Dofollow blogs
because these blogs will help to
boost SEO
of sites which are linked to it.You can easily Identify spam coments because it  is will full of
irrelevant keywords
,
totally unrealated
to discussion or article and hyperlinks also will be there.Checkout this article,
Tips to comment on blogs
What is Trackback Spam?
You will receive a
Trackback
whenever someone links to your
blog post
. Trackbacks is one of the
link building technique
which helps to
boost SEO
. If you are using
Dofollow comment system
like Geekyard you should be prepared to fight against
spam comments
. If you are not aware of Dofollow and nofollow read this article,
How to Fight Against Spam Comments?
Lets now see 2 simple techniques to prevent spam comment in your WordPress Blogs.
The WP-SpamFree plugin virtually eliminates automated comment spam from bots, including trackback and pingback spam.Its an extremely powerful anti-spam plugin that eliminates comment spam, including trackback and pingback spam. It works invisibly without CAPTCHA's, or other inconvenience to site visitors.
How to Install WP-SpamFree
1. Goto WordPress Dashboard –> Plugin.
2. Search for WP-SpamFree.
3. Click Install.
4. Activate the Plugin.
Enjoy a Spam Free Blog 😉
WP Captcha-Free pulgin blocks automated comment spam without resorting to CAPTCHAs. It does so by validating a hash based on time (and some other parameters) using AJAX when the form is posted. Comments posted via automated means will not have a hash or will have an expired hash and will be rejected. Unlike using a captcha, this does not place any burden on the commenter.
How to Install WP Captcha Free
1. Goto WordPress Dashboard –> Plugin.
2. Search for WP Captcha Free.
3. Click Install.
4. Then Activate the Plugin. 🙂
These are the two methods that helped us to prevent spam comments in Geekyard blog.What techniques do you use to fight against Spam Problem? 🙂