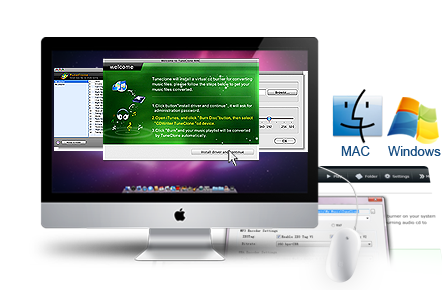 The iTunes music is DRM copy protection files called "protected AAC" with file extension of ".m4p". That is to say, iTunes music cannot be compatible with other devices except for the Apple software and devices. How to play iTunes music on other devices? TuneClone is developed to solve this problem exactly. It can convert the purchased iTunes music collections to general MP3 files.
M4P music files can be played on Apple products only, such as iPod, iPad, iPhone, iTunes, etc. In order to enjoy music on other common used devices, TuneClone is designed to release the limitation of M4P music. It's very convenient to use. Just download and install TuneClone, and then M4P can be converted to mp3 with several steps.
Key Features of  "TuneClone M4P to MP3 converter":
TuneClone M4P Converter can remove DRM protection from iTunes purchased music files with a few clicks via a virtual CD burning approach.
The converted DRM free music files can be played back on any media player, such as PSP, Cell Phone, Pocket PC, PDA, Creative Zen, etc.TuneClone M4P to MP3 Converter can convert M4P to MP3, M4A to MP3, AAC to MP3.
TuneClone can convert music collections at high speed.
Preserve ID3 tags for artist, album, title names, artworks, etc.Easy to install with a very handy and clear user interface.
Compared with real CD-R or CD-RW disc, TuneClone virtual CD burning uses the maximum writing speed and music files  can be converted at a very high speed.
Specially designed for Mac OS X users and fully compatible with the latest OS X Lion.
Full support for iTunes 10. 
How To Win a FREE License Key?
Price of TuneClone M4P to MP3 converter is $34.95, but today by the cooperation between Geekyard.com and Socusoft.com, Socusoft.com will give 5 licenses for full soft for readers of Geekyard.com. To get license you just only do:
Leave a comment for this post with a valid email (To receive license key).
Share this post to Social network as: G+1, Facebook, Pinterest, Twiter,… by the social network buttons.
Once you complete the above 2 steps you can enter the contest 🙂 We will choose 5 winners using Random draw. The last day to enter the contest is 25th July 2012.
All the best contestants 🙂