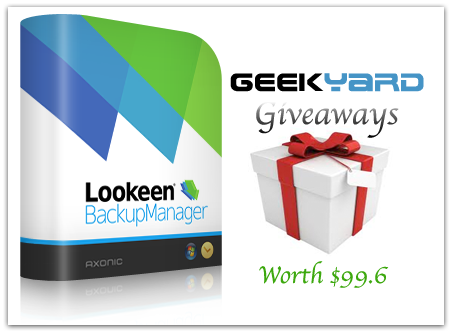 Participate and Win FREE giveaways in Geekyard. We are giving away Software pack worth $99.6 for our readers. Just participate and win a Professional backup application for MS Outlook. This is our first giveaway in Geekyard. We are planning to provide free giveaways every month for our blog readers.
Lookeen Backup Manager is a professional backup application for Microsoft Outlook. Lookeen Backup Manager makes life easier by allowing you to backup Outlook e-mail, contacts, calendar, tasks, notes and lot more.
With this application you will be able to archive your Emails, contacts, tasks, notes, rules, Email accounts, signatures and favorites of your Browsers (IE, Firefox, Opera, Safari, Chrome).
Do You Really Need to Backup Outlook?
A regular backup of is highly important if you are running a business. A program crash or accidental data loss can affect your business and other works. Lookeen Backup Manager is best solution to overcome these problems. This program guides you on every single step, leading you through the different options, so you can customize backup as you wish. You can also Password protect your backups. Restore all your Outlook e-mail, contacts, calendar, tasks, notes and signatures etc. 🙂
How to Get FREE license of Lookeen Backup Manager?
Lookeen Backup Manager costs $49.8. Thanks to Stephanie Zimmermann for giving Geeyard readers two licenses keys. Anyone can participate and win this FREE giveaway software. Just complete these 2 steps,
Subscribe to Geekyard.

Head to Contact Page and mail us your details. (Name & Subscribed Mail Id) with the

Subject: Free License

.
This Software giveaway contest ends on July 10th.
The winners will be picked up using lot method, and will be announced within 3 days after the giveaway expires.
Good luck to contestants 🙂
Download: Lookeen Backup Manage(1.9Mb)
Follow us on Facebook and Twitter to stay updated with future Giveaways. 😉
<Contest Over>
To see winners click here