Everyone dreads losing data, and when it happens, most people think that there's no way of recovering the data. However, data loss due to hard disk failure, accidental deletion, system crash, virus attack, etc. shouldn't make you panic since there's an easy way to recover your data using free data recovery software. Data loss can happen anytime, and it doesn't matter whether you are Windows user or Mac user.
The best way to ensure your data is not compromised is by using EaseUS Data Recovery software. The free file recovery software is easy to download and install without taking up too much space on your hard drive or SSD. It's the most reliable software that you can use to recover lost documents, video, photos, audios files, emails, graphics and many other files. The software has been in existence for 12 years, so you are guaranteed the best data recovery experience when using this free data recovery software.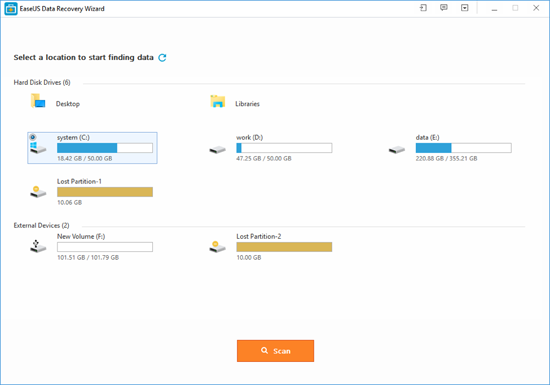 The devices supported include PC/laptop, hard drive, external disk, SSD, USB Drive, Camcorder, Memory Card, Mobile Device, CF/SD Card, Digital Camera, Micro Card, External Disk, Music Player, etc. Besides that, when you install the free data recovery software, you have access to a variety of features before you decide to upgrade to EaseUS Data Recovery Wizard Pro or EaseUS Data Recovery Wizard Pro + WinPE. Unlike the other file recovery software which you have to buy first before learning how they work, this free data recovery software allows you to try it out first for free. Not only does the software offer free data recovery, but you can also backup the data since you never know when data loss calamity might strike.
Why use this software? Reputable history:EaseUS Data Recovery has been in existence for 12 years now, and people who have used the software know that there's no other software out there that matches its efficiency. The software has progressively evolved over the years to become better due to its improved features. The latest version of the file recovery software is version 11.6 which was released on June 29, 2017. Some of its new features include; ability to recover data from a specified folder, improved quality of export/import scan status and support to preview PPT/PPTX and PDF files before recovering.
Virus free: There is plenty of data recovery software on the internet, but you cannot be sure that the software you intend to download is virus free. Most of these file recovery software can be malware designed to infect your computer. Why risk your data by installing software that is not 100% secure? Trust me EaseUS Data Recovery Wizard Free is the most secure virus free data recovery software. Our aim is to help you recover your data rather than compromise it. Additionally, when installing the software, you can also choose the language you prefer.
Free means no payment: In addition to the software being virus fee, no credit card or email-id is needed when downloading the file recovery software to your device and you can recover up to 2GB of lost data using this software.